Steel production demands most reliable products resulting from the high investment costs of such machinery.
The main task of the roller table drives is to accelerate and decelerate the slabs on the machinery. Owed to extreme environmental temperatures in combination with high acceleration torque, the special gears have been designed with an integrated water jacket and a spheroidal graphite iron housing.
Technical specialties of the gears:
Spheroidal graphite iron housing EN-GJS-400-15
Integrated water jacket
Sealing with Viton seal rings on hardened running surfaces as well as a labyrinth seal on the output side
Heat protection shield
Torque support directly at the gear housing
Synthetic lubricant
WEG Roller table motor
The use of qualitatively high drive technique ensures low maintenance- and service costs.

WATT steelwork gears:
The drives are available in various variants:
Helical-, bevel- and parallel shaft gear
Output torque from 1,250 up to 20,000Nm
Torque range and gear reduction from the MAS® gear system
In the course of drive selection, the gear will be chosen together with the customer, according to the particular thermal environmental influences.

Gear characteristics:
Type: CWA 81A (GJS) IAK160
Motor power: 4kW (500V, 50Hz)
Output speed: 30rpm
Gear rated torque: 2,700Nm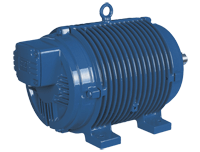 WEG Special motors:
The ample and worldwide available motor programme of WEG allows a project-oriented supply of numerous mechanical and electrical options.
The motors can be assembled as circular finned motors of spheroidal cast iron or as unventilated grey cast iron motors. It either can be mounted with a motor adapter or directly, which would increase the efficiency.

Further information about WEG roller table motors can be found under the following link: www.weg.net.